Get The Card That Fits Your Fleet
Best Rebates In The Business
The Fleet card saves you the most money. Start with instant savings at the pump and additional savings at the end of the month.
Choose between three different cards based on your business needs.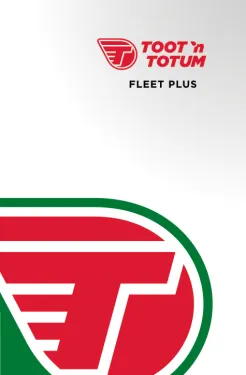 FLEET PLUS

Fuel Only
The Fleet Plus card is restricted to fuel purchases only. See an instant $.05 savings at the pump when fueling with assurance that only fuel is being purchased.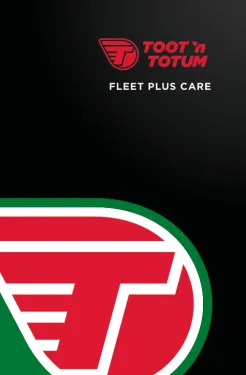 FLEET PLUS CARE

Fuel, Car Care and Car Wash
All the benefits of the Fleet Plus card (like saving an instant $.05 every time you fuel), but use it at Toot'n Totum car washes and lube centers too.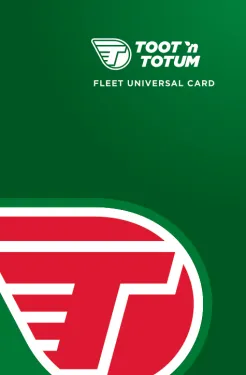 FLEET UNIVERSAL

Fuel, Car Care, Car Wash, Snacks and Drinks
The Universal card offers benefits of all the cards including the same $.05 fuel discount. It's useable at Toot'n Totum car washes, lube centers, and convenience stores.
Ready. Set. Go.
Member Login
Security and Control
Authorize transactions using individual driver ID's

Set purchase controls/parameters:
Number of transactions
Type of transactions (fuel only/fuel & maintenance/etc.)
Type of fuel purchased

Daily transaction emails
Online Access to Your Account
Download transaction and report details
Order new cards/shut off cards
Update or alter purchase parameters.
View current and past reports
Extra Perks
Accepted at all Toot'n Totum stores, lube centers & car wash locations.
Fuel discounts on all fuel types
No monthly or annual fees.
Receive detailed monthly reports on all purchases.
The Fleet Card That Saves You The Most Money.
Start with instant savings at the pump, and additional savings at the end of the month. Manage your business with a fleet card. You have the option to choose between three different cards based on your business needs.
Q
What is Toot'n Totum's FLEET PLUS Program?
A
FLEET PLUS is the business version of our consumer gas savings program that saves customers up to 8¢ a gallon on gas and diesel.
Q
How is it that we save so much more with FLEET PLUS than other fleet cards?
A
By using FLEET PLUS, you help us save on fees associated with credit and debit cards.
Q
Are there any fees to join or use FLEET PLUS?
A
No. There are no enrollment fees or annual fees, and we do not charge fees for use of your FLEET PLUS card. If your bank returns a transaction* unpaid, you might be charged a fee.
We recommend that you have Overdraft Protection on the bank account used for your FLEET PLUS transactions to avoid this return fee.
*Transactions take 2-3 business days to process.
Q
How is FLEET PLUS Business different than the consumer version?
A
FLEET PLUS users enjoy higher rebates and additional features that help the business owner control, track, and manage gas expenses, including the ability to set different limits for different drivers and simple reports that tell you the number of gallons purchased and total transaction cost.
Q
Can my drivers purchase high-speed diesel using FLEET PLUS?
A
Yes, drivers can purchase high-speed diesel using FLEET PLUS.
Q
Can FLEET PLUS be used for in-store purchases?
A
In-store purchases are only allowed using the Fleet Universal Card (green card). You can choose the card that best fits your business needs.
Q
Can I increase my business weekly spending limit?
A
Yes, you can request to increase your business' weekly spending limit through the owner's portal.
Q
How long does it take for my account to become active?
A
Typically, one to three business days. You will be notified of your account status and program details through subsequent email messages.
Q
I saw a small deposit and withdrawal in my bank account after enrolling. What is this?
A
ZipLine validates your enrolled bank account information to ensure that we have the correct account number. We do so by submitting a deposit and withdrawal to your bank account.
These "challenge transactions" are a test to confirm the validity of the account. The enrolled card is not activated until this bank verification process is completed.
Q
Where can I use the Toot'n Totum Fleet Card?
A
Toot'n Totum Fleet cards are exclusive to Toot'n Totum locations. Find our locations, and upcoming locations here:
Q
How can I reset a PIN Number?
A
You will need to log into the business owner portal and go to manage my account or call ZipLine at 1-800-210-1265 to change a PIN number.
Q
Where can I see my savings?
A
Savings are rolled back at the pump - $.05 per gallon. For more than 499 gallons, you will receive a rebate into your checking account at month's end.
Q
How do I update my checking account information?
A
To change your checking account information, call ZipLine customer service at 1-800-210-1265.