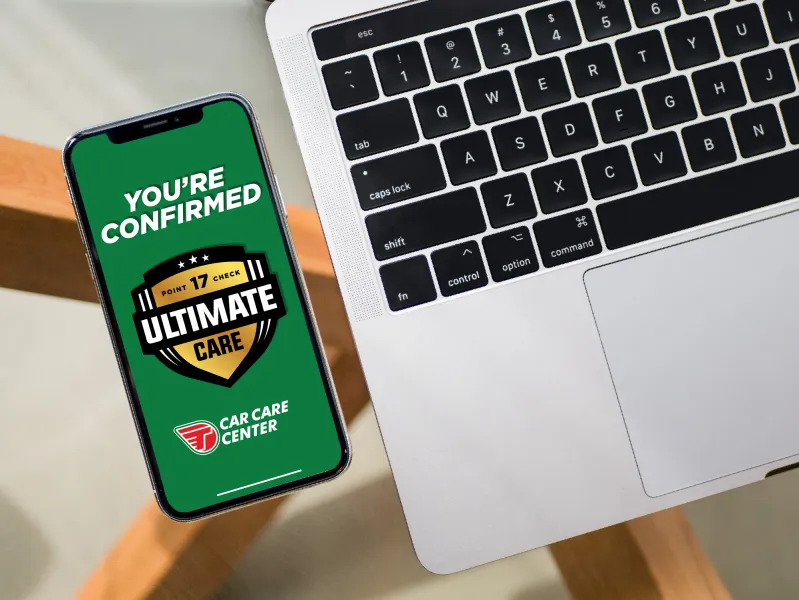 Ultimate Care Scheduling
Save Time In A Tap
Experience the Ultimate in Car Care with our 17-point check! Our Ultimate Care Service guarantees your car is running safely and efficiently. Take the hassle out of car maintenance and schedule an appointment with one of our Car Care Centers today. Enjoy the convenience of fast and reliable service, so you can get back on the road in no time. With our Ultimate Care service, you can trust that your car is in the best hands.
We Gotcha Covered
Ultimate Care & Essential Care
Get the best care for your car with our Ultimate Care and Essential Care services! The Ultimate Care 17-point inspection provides the ultimate peace of mind, while the Essential Care gives you a complete service in just 15 minutes! Book your Ultimate Care today or pop in at any time for the Essential Care and enjoy the road!
I am beyond impressed with the staff here. Got me in and out and fixed my rock chips! Their lobby was super clean and the staff is beyond amazing! Very nice, welcoming and quick service! I highly recommend going to them!
Elaine Lucero
Google ★★★★★
Chill mechanics. Went in for an oil change. They were very informative as to what repairs they would suggest, but they were not pushy when I declined the extra things. Very competitive pricing, too.
Riley Moore
Google ★★★★★
The best service I've had in a long time. The team here went above and beyond for my friend and I when we were in a real pickle on our road trip. This is a crew of good people, and we are so thankful.

Mercedes Guill
Google ★★★★★
Car Care Center Locations
Car Care Center Locations Only
Toot'n Totum Services
Fuel
Toot'n Totum Branded
Valero Branded
Phillips 66 Branded
Diesel
Ethanol Free
High-speed Diesel/DEF
No Ethanol Regular
No Ethanol Premium
Amenities
Lone Star Skill
Coin Cloud
Private Showers
Ambest
FetchUm
Food & Beverage
24 Hours
Fast'n Fresh
Drive Thru
Wendy's
Which Wich
Mitch's TX Style BBQ
Vehicle Care
Express Car Wash
Car Care Center