A Message From Sarah Webster, HR Director
"A career with the Toot'n Totum family of companies meets you where you're at in life…. whether you're looking for a job while going to school, a night shift position while you care for family during the day or building your career. We offer endless opportunity for career progression in our c-stores, restaurants, Car Care Centers, commissary, and the departments that support our field operations. Do you want to grow? So do we! We'd love to meet you. Drop us a line and come build your career with us!"
- Sarah Webster, PHR, SHRM-CP
Director, Human Resources - Toot'n Totum Food Stores, LLC
Team Member Benefits
Vacation. National Holidays. Health Insurance. There are some benefits you expect at any job. With Toot'n Totum, you'll also find benefits you might not expect. As a member of our team, you could be eligible for programs that help you with tuition, hardships, retirement, and more.

Tuition Reimbursement


Toot'n Totum offers tuition reimbursement to every Team Member who works at least 20 hours per week. Everyone who applies for this benefit receives $750 per semester to use towards tuition and may also be eligible to receive $250 to use towards books and other supplies.

Support Fund Loans


Toot'n Totum offers support fund loans to Team Members experiencing hardship. Employees who apply for this loan must have worked for TnT for at least 90 days.

401K
If you are interested in saving for retirement, Toot'n Totum offers a 401K program for all Team Members. TnT will match 25% of your contribution up to 4% of your pay.
Insurance

Toot'n Totum offers a full insurance package for Full-Time Team Members who have worked for TnT for 90 days. Medical, dental, health and supplemental insurance.
Paid Time Off
Full-Time Team Members may receive paid time off after they have worked 90 days. This benefit is based on your position.
Additional Benefits
Performance Incentives with Pay Increases
Paid Orientation and Training Time
Company-Paid Life Insurance
#CMM Team Member Scorecard
Yes, You Actually Get Paid
To Have This Much Fun!
Toot'n Totum has come to be a part of daily life for thousands of people in the communities we serve. To them, we're more than a place to buy food and gas; we're part of the local landscape, and we've been there when they needed us since the 1950s. Our Guests love us, and we love them.
Our convenience stores are the very heart of our brand. With over 80 locations and counting, they offer ample room for growth and/or relocation, and an ideal gateway to a career in management. So many opportunities, all in one place. But then, that's what Toot'n Totum stores are all about.
Whether you are looking for a full-time or part-time job, we have a position for you! A few of our C-Store opportunities: Guest Service Representative, C-Store Driver, Store Manager or Assistant, Deli Assistant, General Manager, Crew Leader, Commissary Crew Member or Driver, and Store Food Manager.
TnT also has a wide variety of positions available at our Quick Service Restaurants: Wendy's, Which Wich, and MItch's Texas Style BBQ.
PLUS Mr. Payroll, TnT Sign Co., Power wash, Care Care Center, Warehouse, and Information Technology, the list goes on!
Are Your Ready For A
High-Octane Career?
Our Support Center is a prime example of what a career with Toot'n Totum is all about: Come with the skills you have, learn more along the way. Grow and reach a level of expertise. Then, set your sites on the path that's the best fit for you.
If you love working with people, growing projects, and being surrounded by Team Members who feel more like friends than co-workers, we just might have an opportunity for you!

Find a career path that highlights your skills and where you truly feel you belong. Maintenance Technician, Inventory, Finance, Human Resources, TnT Sign Co., Marketing, SUPA Fuel, just to name a few!
One Company. Countless Opportunities.
What's a career with Toot'n Totum like? Other than the fact that we have a great time and treat each other like family, it's hard to say. That's because even though we're one company, we offer lots of different paths for you and your career.
For example, a few years back we hired an Assistant Manager for one of our stores. Today, he's in our corporate office, working as Learning & Development Manager for the entire company. Stories like that aren't unusual here. You may start out at working the counter at one of our quick serve restaurants and end up managing a car care center. Or, you may hire in as a baker in our fast'n fresh commissary, then aim for a spot as a store manager.
Wherever your interests, talents and skills can take you, we offer you a way to get there - and people who are willing to help you along the way. After all, that's what families are for.
"Family is at the heart of everything we do." That's more than a nice saying. It's who we are. After all, without family, our company would never have come to be, and we wouldn't have been able to accomplish all the amazing things we've done.
What's It Really Like
To Work At Toot'n Totum?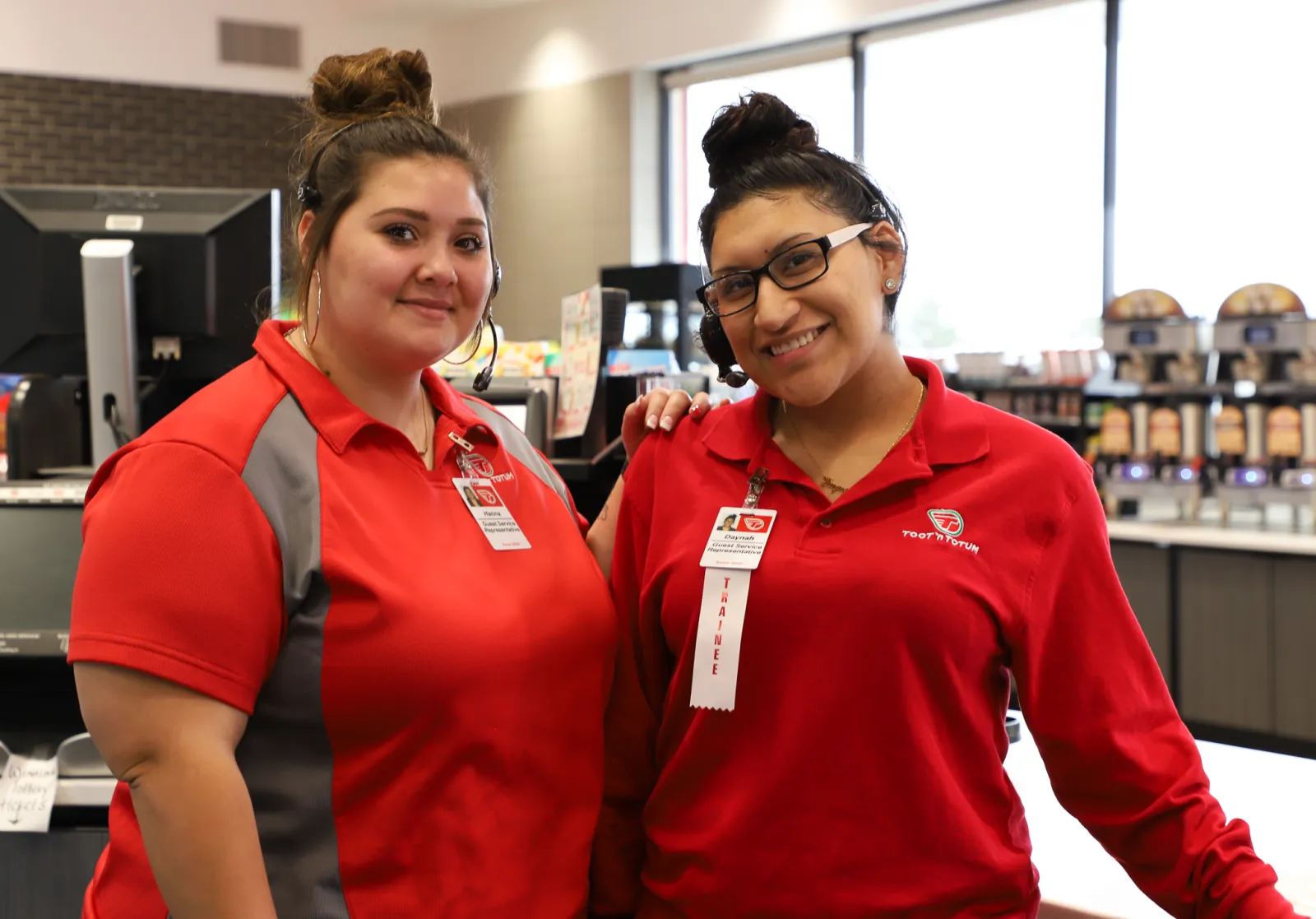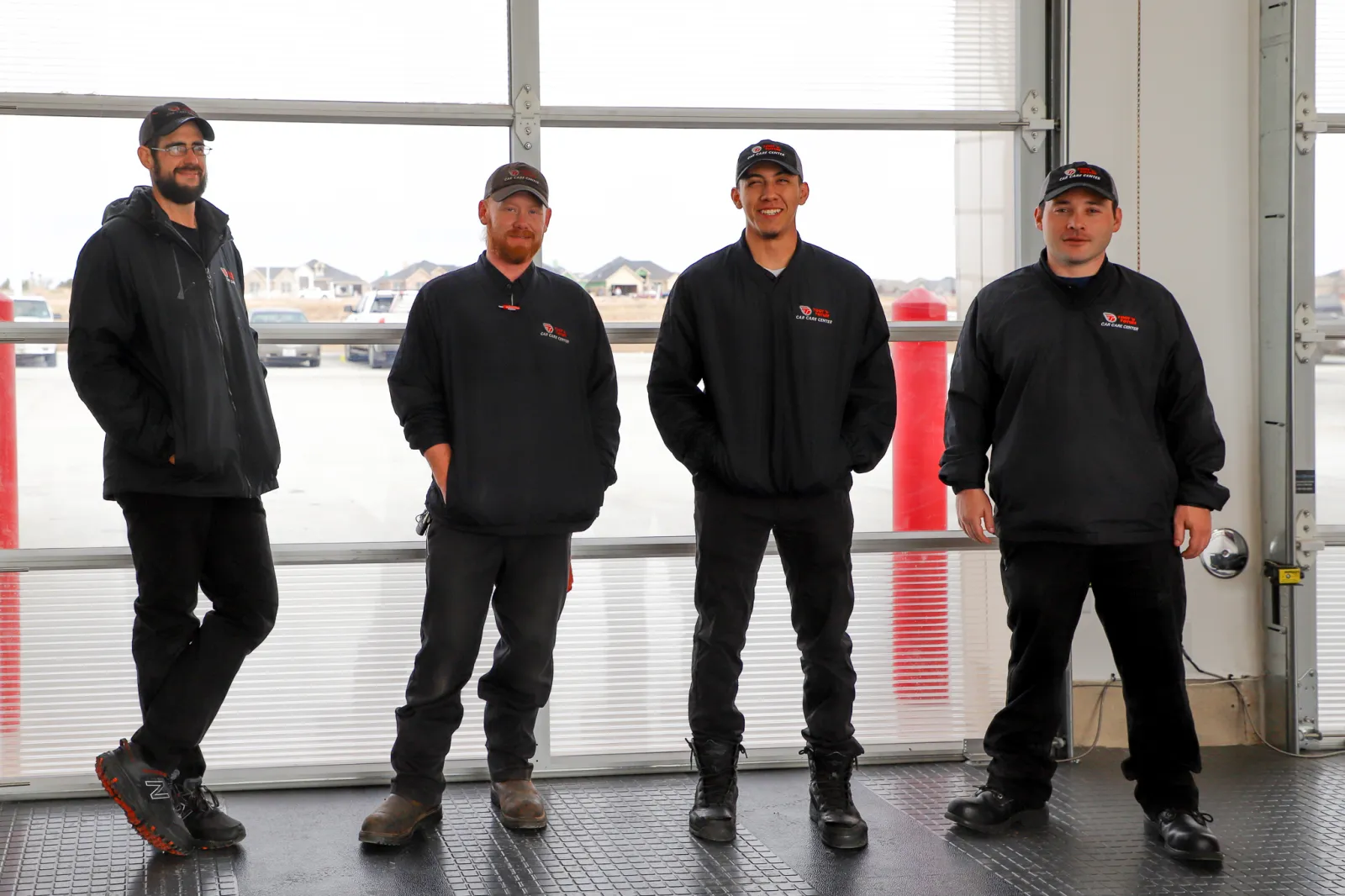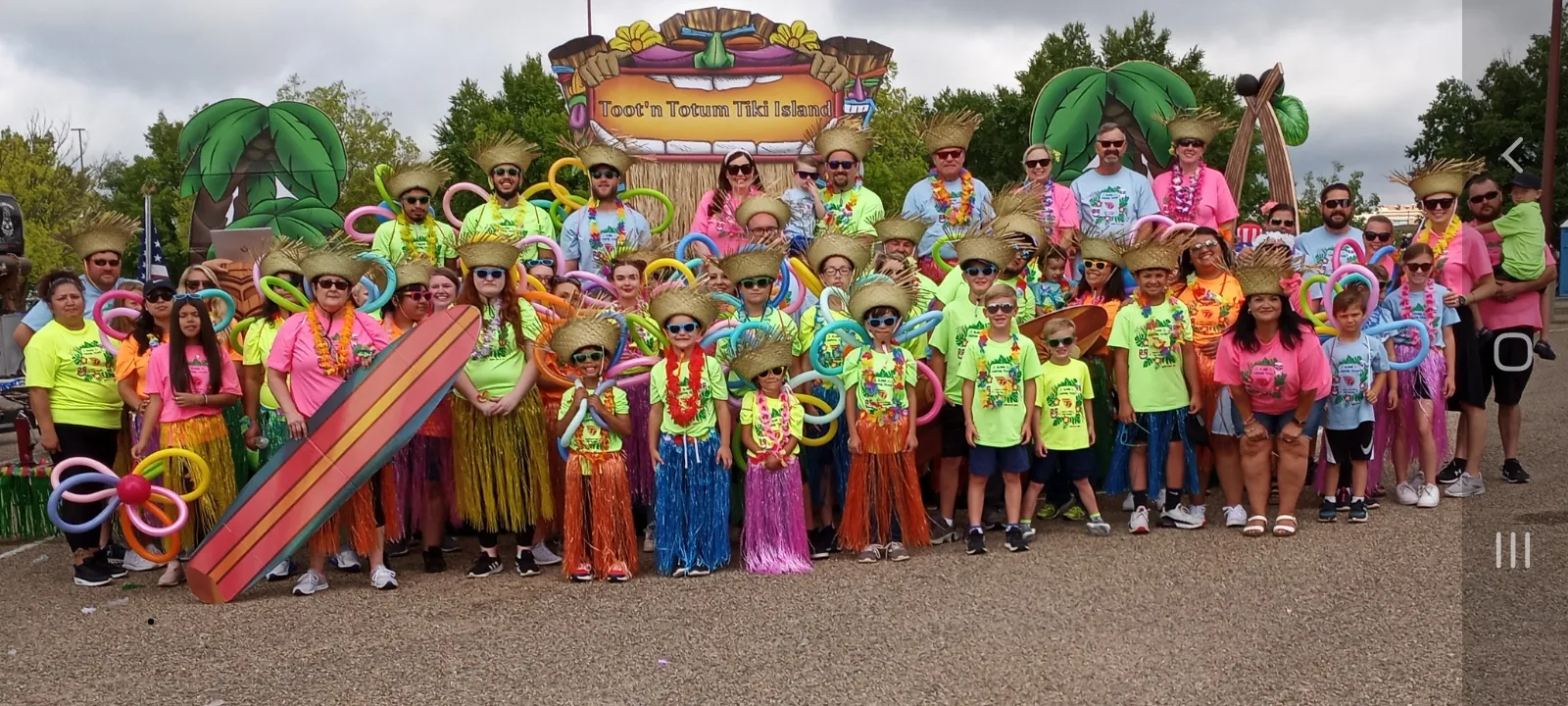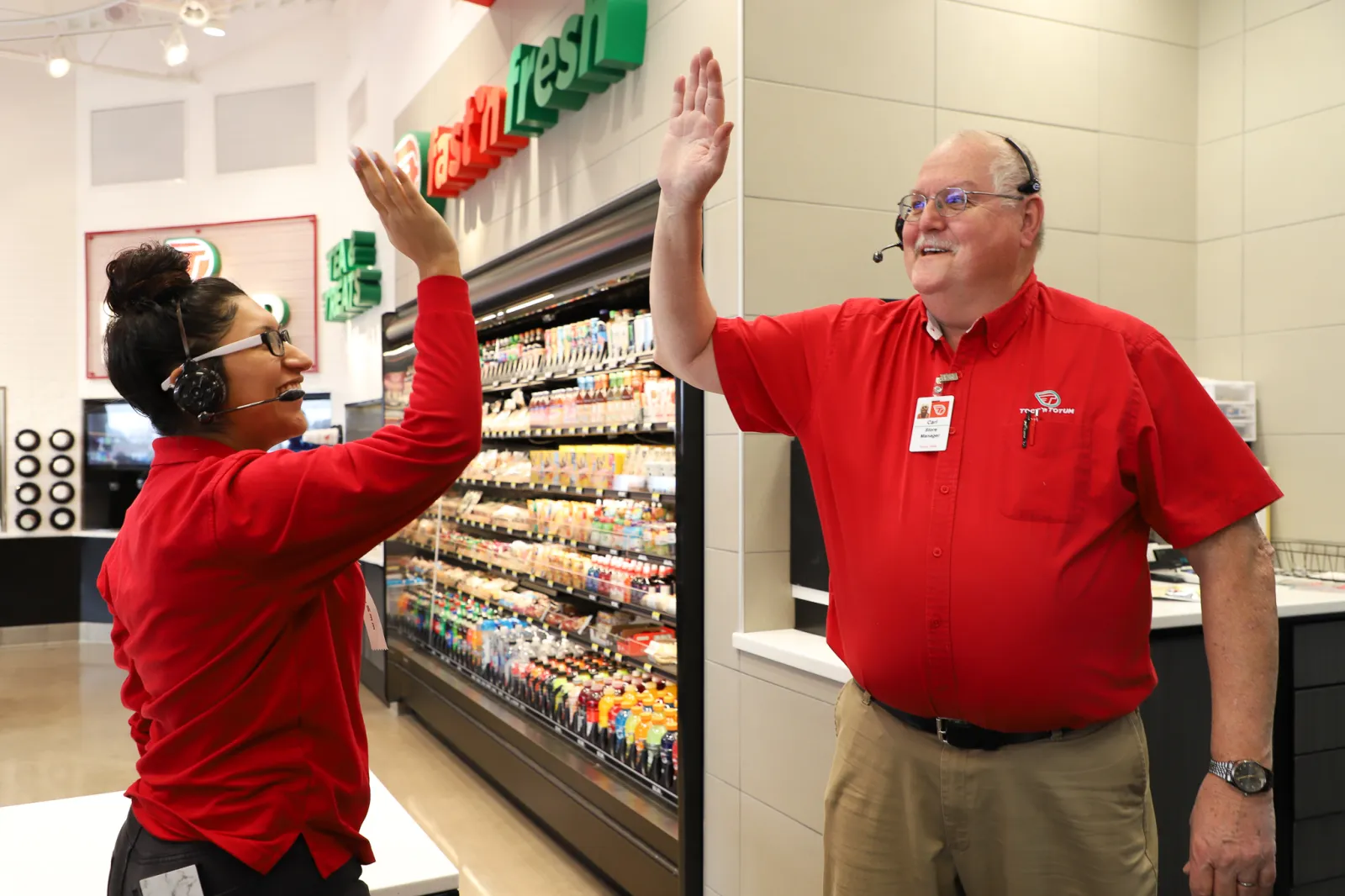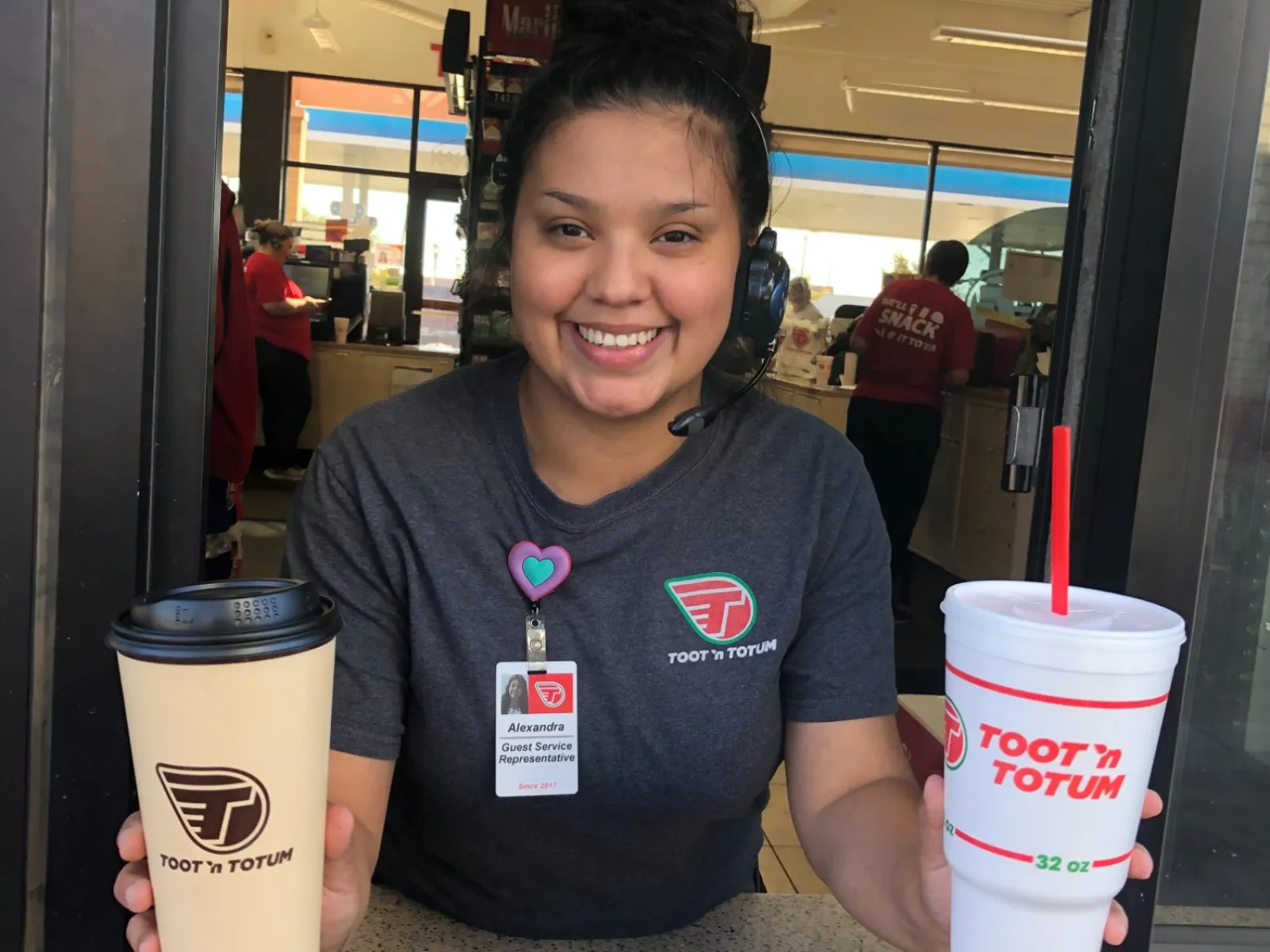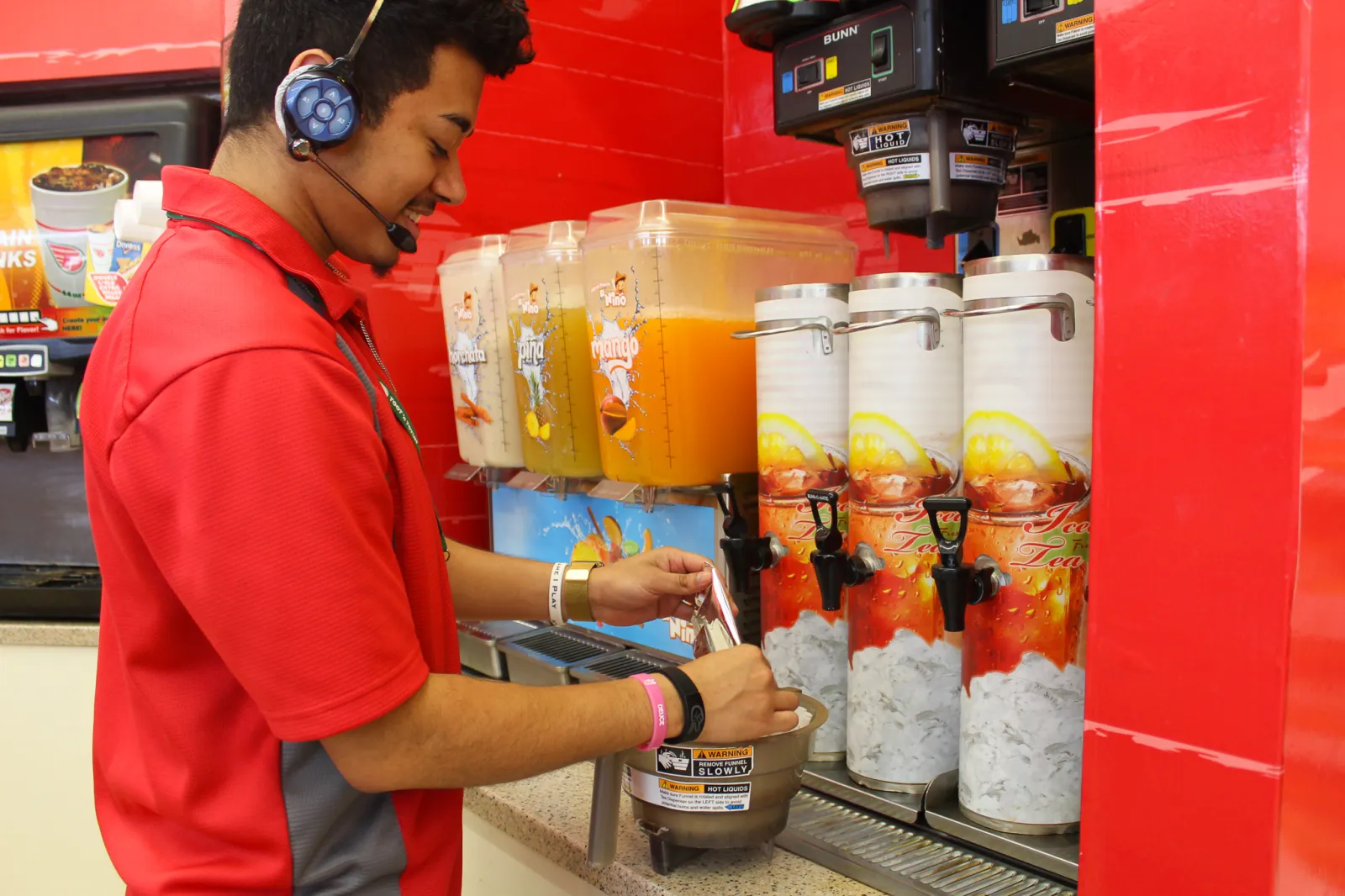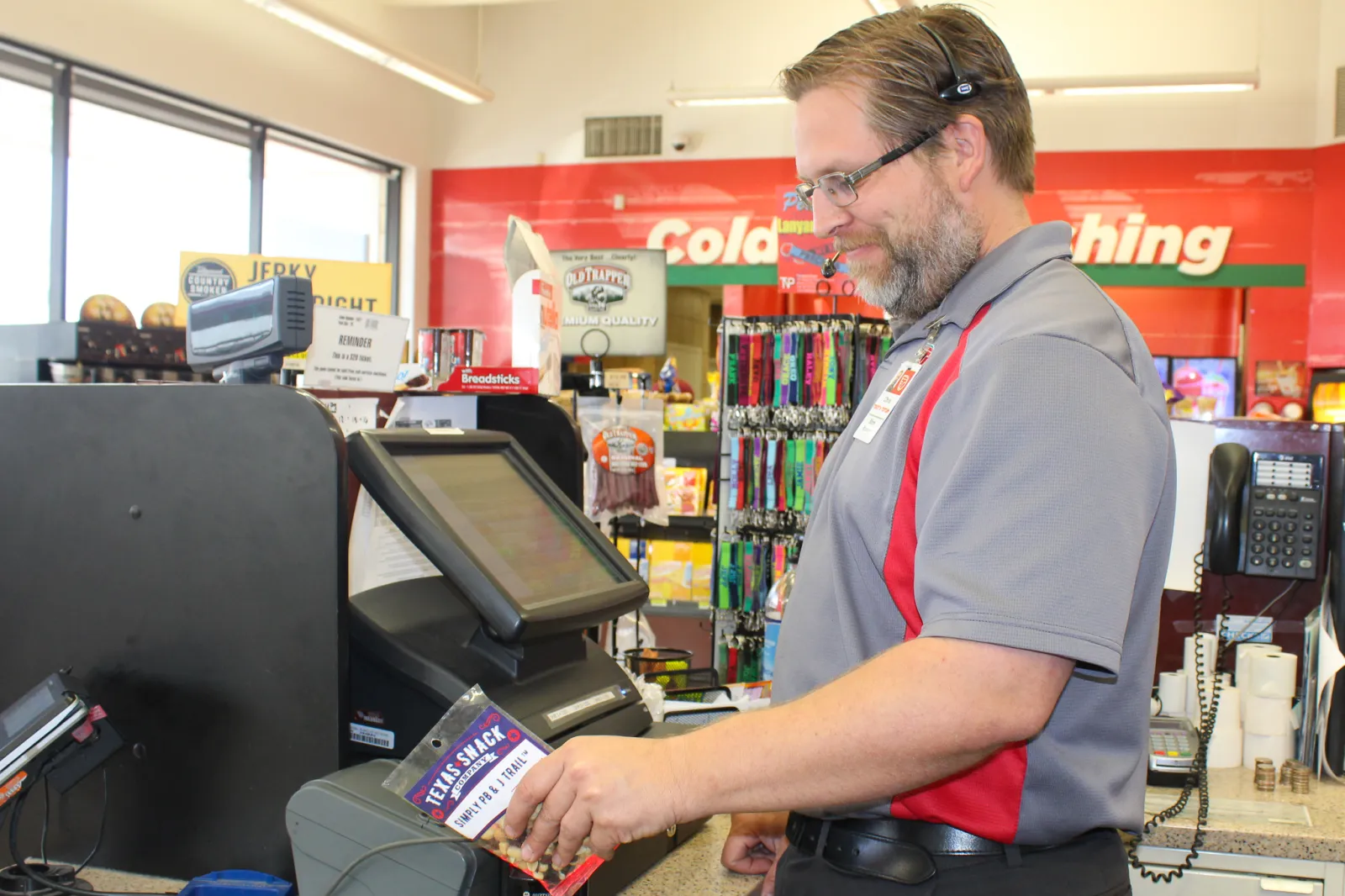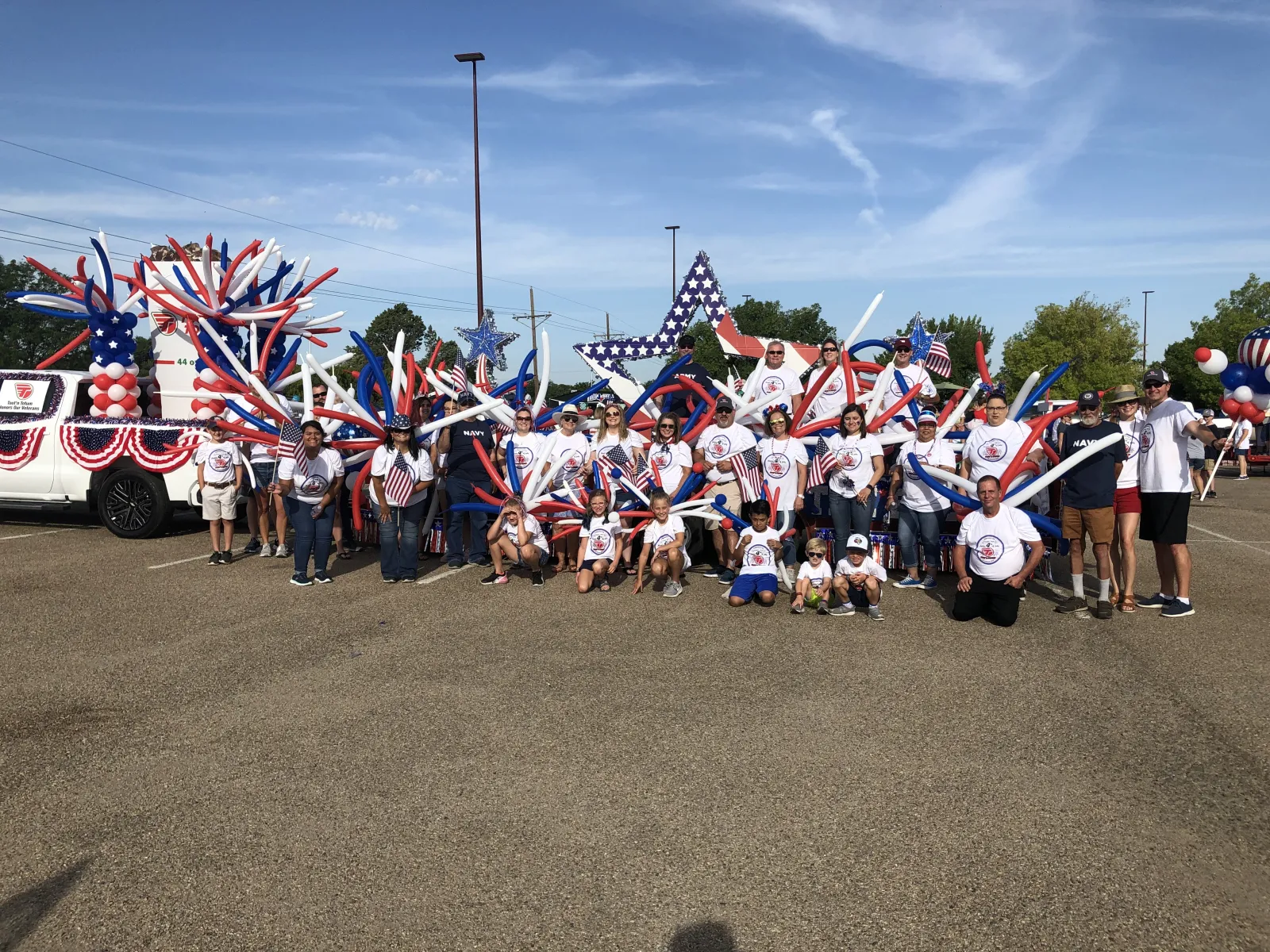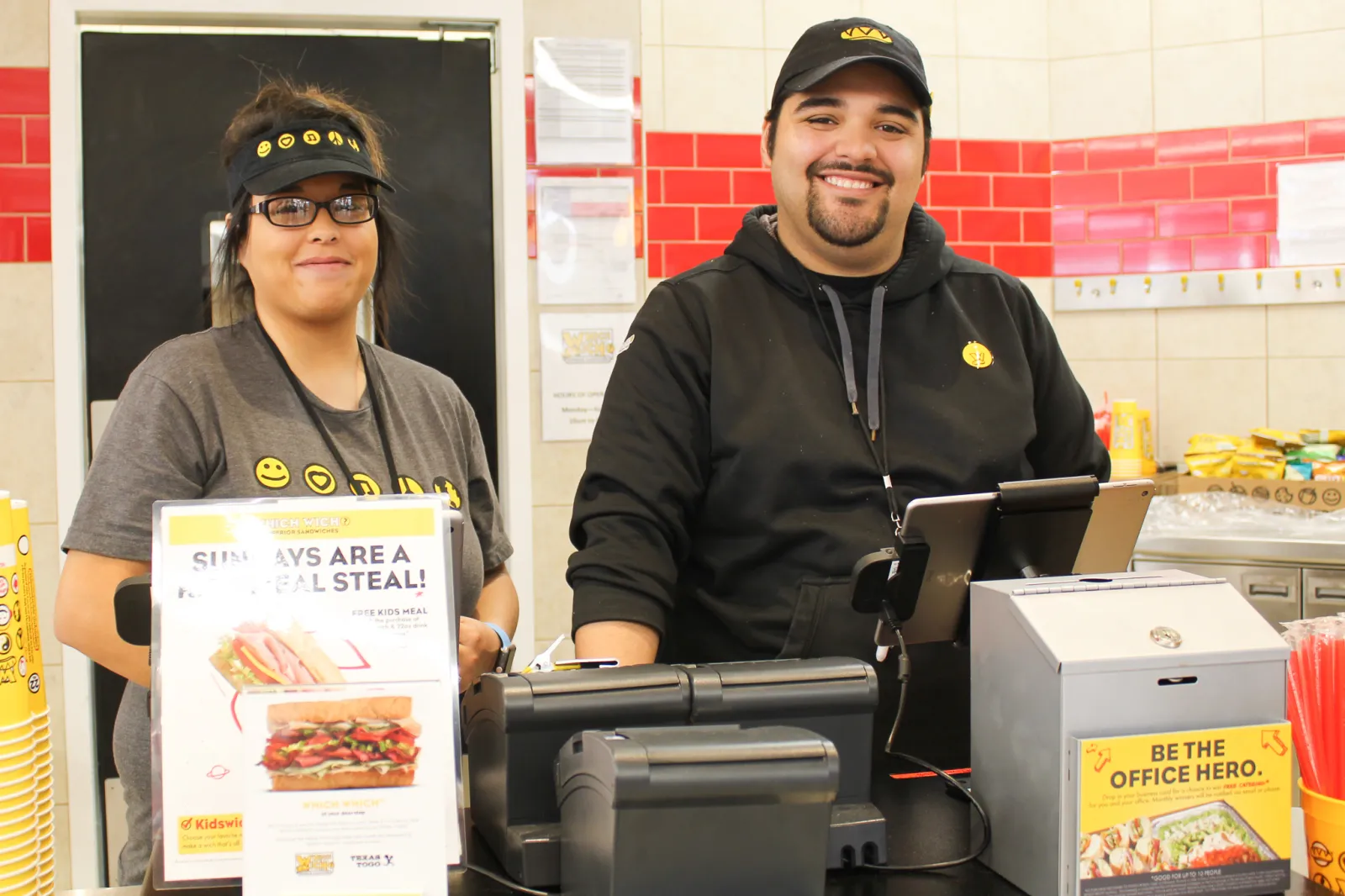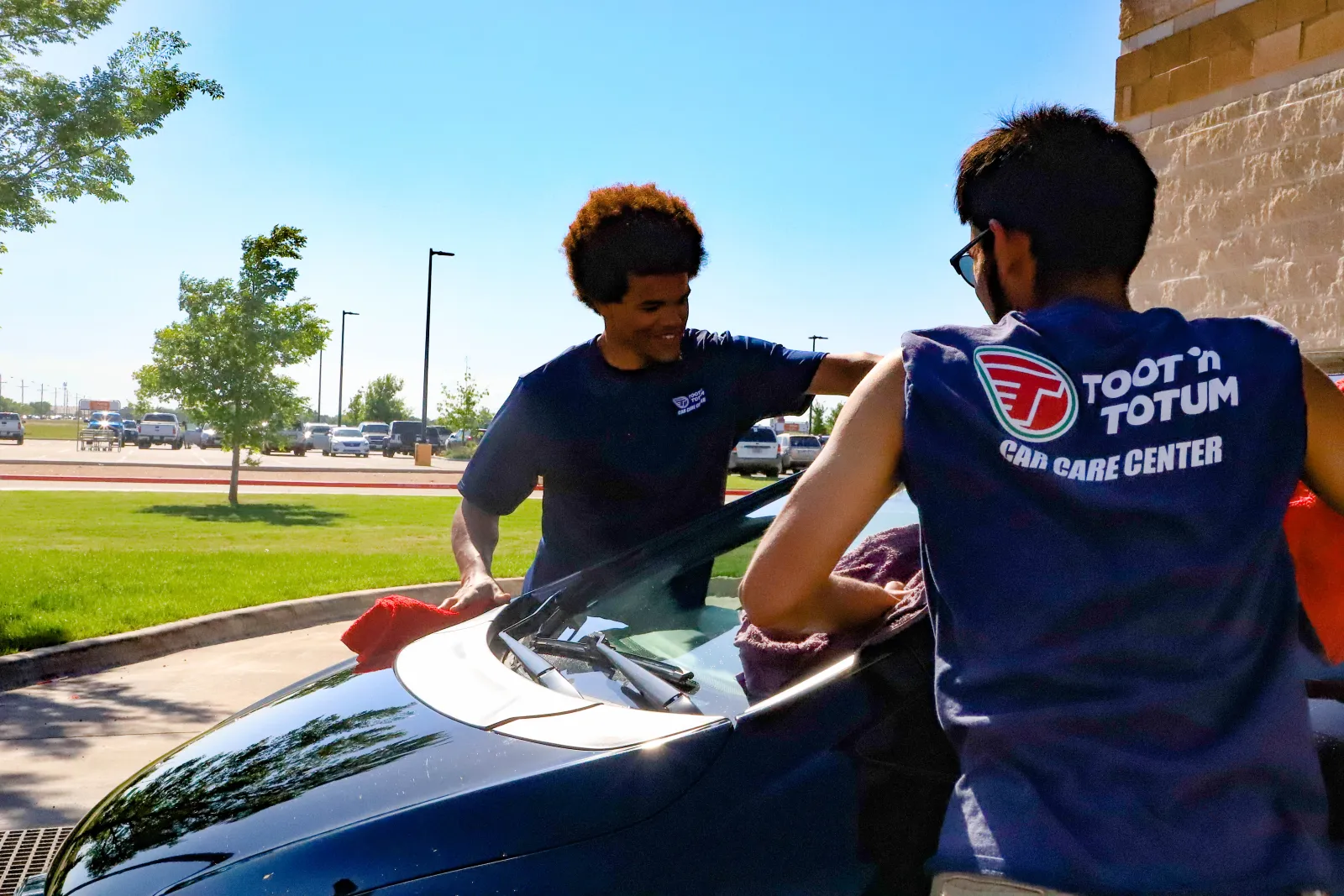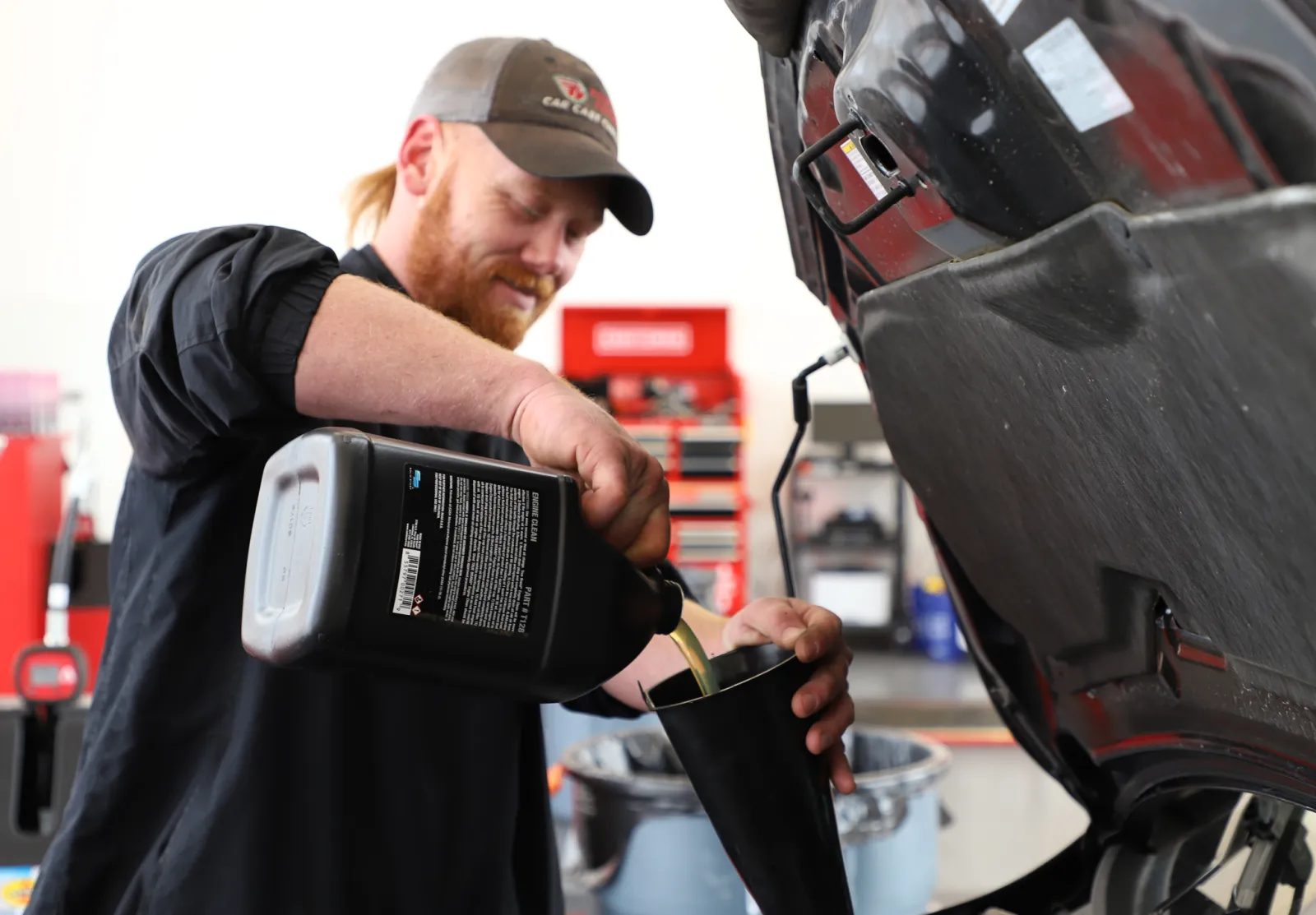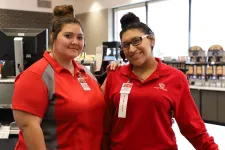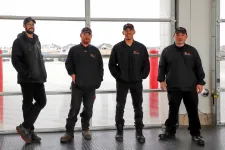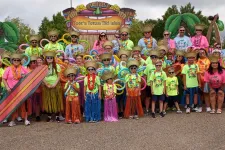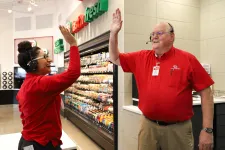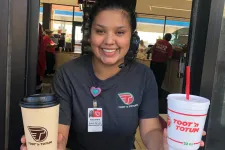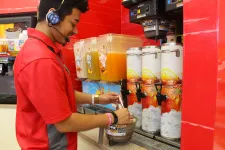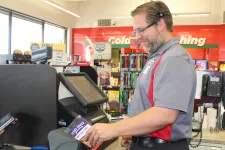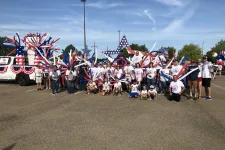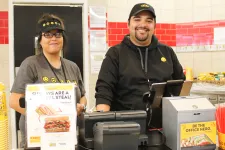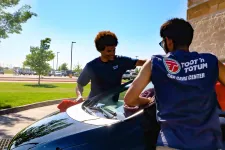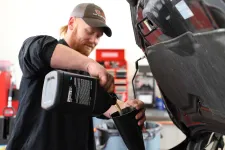 It Pays to Refer Your Friends!
We're always on the lookout for Tootally Awesome Team Members.
And what better way to find great future Team Members than to ask our current ones?
TnT offers referral bonuses for helping us find new talent. If you currently work for Toot'n Totum and know someone who would be a great fit for our team, let us know! For every person you refer, you'll receive a monetary bonus if they stay with the company for 90 days. If they stay for 6 months, you'll receive another bonus! And if a location is particularly short-staffed and in need of help, your bonus could be even bigger!


Team Member Testimonials
Toot'n Totum is always there to help us when we need it. I would explain our culture as just being very friendly and welcoming and making our guest feel like family. We go over and beyond to make sure our guests want to come back over and over again. Of course, creating experiences worth repeating.
Maria A.
GSR, 11 years
My favorite thing about working for TnT is making the guests happy and building relationships with them. We strive to create experiences worth repeating and building relationships with guests.
Samantha B.
Store Manager, 10 years
My favorite thing about the job is the customers, meeting new and different kinds of people, and having a routine on side duties. We try to bring a smile to customer's faces and assist customers on whatever they may be looking for.
Hannah C.
Assistant Manager, 11 years
TnT has a family atmosphere. We try to grow our store in all aspects (guest count, sales, profitability, and building those relationships). We work hard to take care of our Guests in a friendly and efficient manner and build relationships with them. Repeat customers are great and ideal; but I love the first-time Guest and the opportunity to show them who we are.
Bobby M.
Store Manager, 2 years
By creating experiences worth repeating, we make the guests happy, satisfied and have them come back time and time again. We help our guests; we greet them at the door, and we thank them and invite them back. We strive to make someone's day just a little better. The store, including restrooms are always clean and in great shape for anyone that walks through the door. We provide 6 different teas, 4 coffees, 10 cappuccino's, Fuel, Roller Grill, Restrooms, 20 different flavors of soda, money orders, stamps and envelopes, 2 different newspapers, ice, propane, air for tires, car wash sales, lottery, beer wine, novelty items, tobacco products, and a wide range of snack items with some grocery. Our team strives to make our Guests' day better.
Sandra H.
Store Manager, 6 years